Dear clients
DEFIS always innovates for you!

DEFIS developed a counter cigarette making machine that uses standard cigarette tubes. Customers carefully slide the tubes into the machine, and then put 200 grams of tobacco into the tobacco hopper. The Start Button is pressed and the machine produces fresh cigarettes at a low price, matching any customer tastes.
The model Magic-Cig-Man-25® is dedicated to only 1 length of tube. However, this model does allow small manual adjustments in order to obtain more or less compacted cigarettes, allowing lengths of tubes that vary slightly.
There machines are rugged and designed to run without problems, Industrial grade aluminium is used for internal mechanisms. Small PLC controller provides a state of the art automat MAGIC-CIG® is a revolutionary system to manufacture cigarettes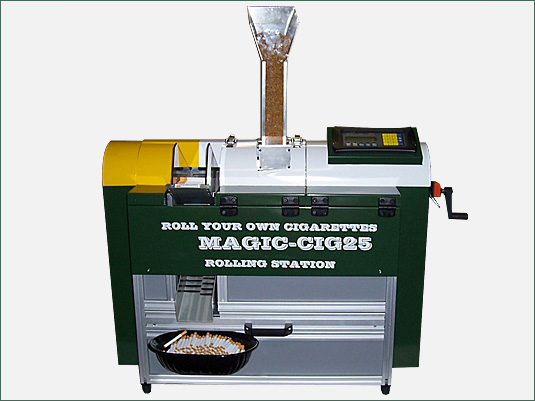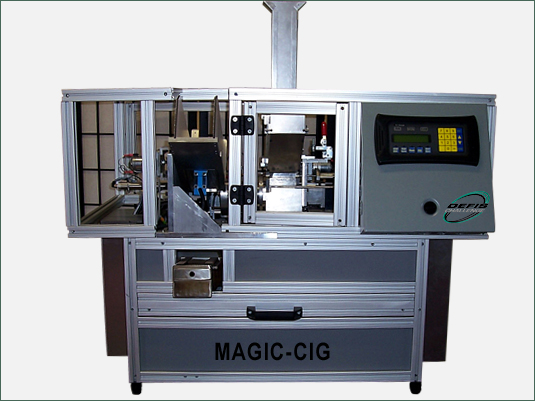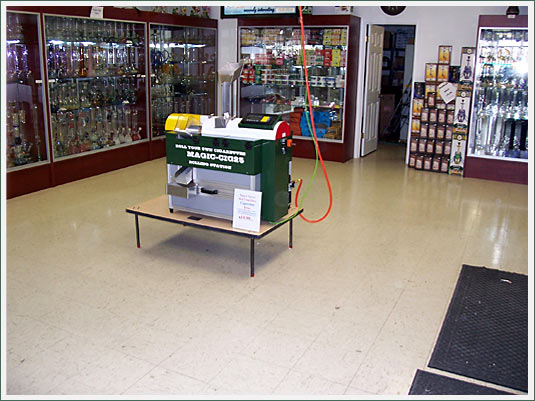 Machine on the store
The advantages and the characteristics of MAGIG-CIG-MAN-25® are:
Manufacture cigarettes having various lengths of tubes and filters

Adjusting the level of tobacco compaction.

Quality of final result is consistent and guaranteed.

Produces fresh cigarettes according to the client's recipes and flavour.

Automatic releasing of scrap and misfiling of product

Easy

access

and

minimal maintenance

Heavy-Duty construction and rugged performance.

High quality on all components.

Speed of production; 25 cigarettes per minute

Manufacture cigarettes at a low cost.

Uses compressed air for smooth operation. Compressors available on request with sound Enclosure.

Three months guarantee for all manufacturing defects.

MAGIC-CIG must be used, according to manufacturer's instructions.

MAGIC-CIG® is easy to operate;
Insert 200 tubes in

the

machine

Place 200 gr. of tobacco into the hopper

Connect to the air compressor and electricity

Press Start Button and collect the finished cigarettes

MAGIC-CIG® is a unique system that gives more value to your business
- Insure customers fidelity with customized cigarettes manufactured according to their choice of tobacco and tube sizes.
- Now, sell fresh cigarettes.
- With Magic-Cig® smoking will never be the same.
- Become your own independent producer and salesman.
- Buy tobacco and tubes directly from the producers. A list of tube manufacturers will be supplied by DEFIS.
- Be more competitive and prosperous.
Dimensions :
Width :42''
Height :42''
Depth :23''