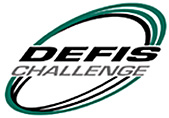 Group DEFIS (Challenge) Company is a privately held corporation dedicated to its employees and its customers. Collectively we are challenged to become the leaders in our chosen field. We are driven by the following mission statement and guided by a set of core values.
Corporate Mission: To be the best supplier of machinery, services, and innovative solutions to the global packaging industry.
Core Values:
To provide superior value to our customers before, during and after the sale.

To provide value to our customers in everything we do each day including processes, relationships and products.

To build and maintain a creative, respectful and enjoyable work environment.

To demonstrate integrity and an ethical and respectful behavior.

To challenge each other and ourselves to be responsible in our workplace and our community.

To contribute to improve the well being of our company.